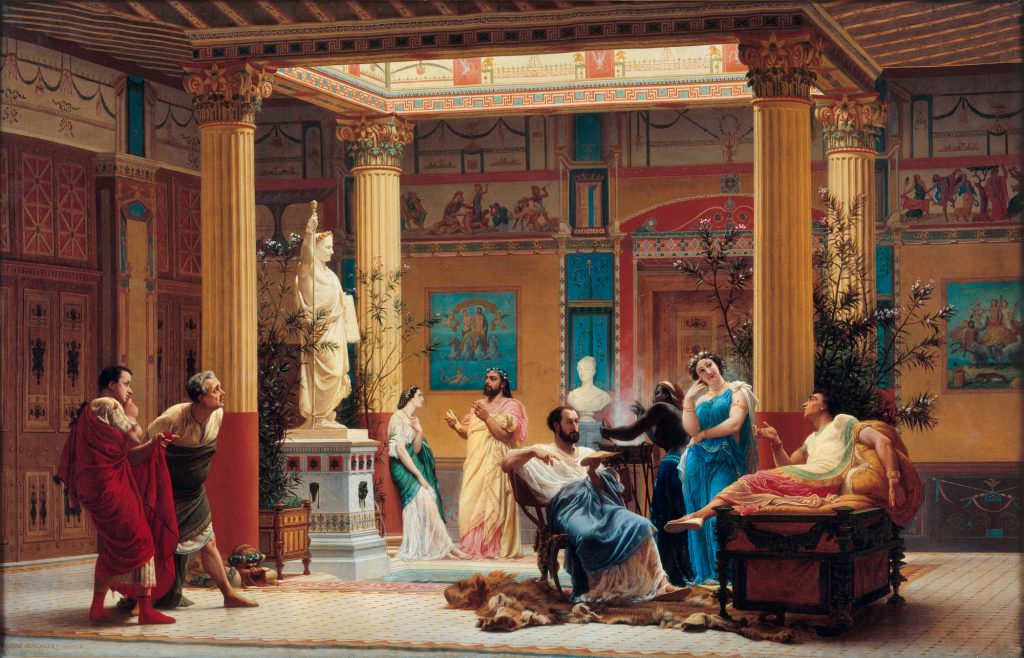 COLOUR & SPACE
Interfaces of Ancient Architecture and Sculpture
Due to COVID-19 the conference will be held online
Please also note the change of date and time: November 10-13, 2020, 14:00 – ca. 19:00 CET
The 10th International Round Table on Polychromy in Ancient Sculpture and Architecture is hosted by the German Archaeological Institute Berlin and the Antikensammlung of the Staatliche Museen zu Berlin, and it will be held remotely, from November 2020 10-13, 2020 (14:00 – 18/19:00 CET – detailed program coming soon).
The topic, "Colour & Space. Interfaces of Ancient Architecture and Sculpture", is meant to foster the dialogue between scholars of ancient architecture and sculpture on various aspects of surfacing and colouring. A special focus will be on the interfaces and, for that matter, also the differences in the surface treatments of sculpture and architecture. At the same time, the Round Table on Polychromy wants to continue the established tradition of being a forum for latest research in the field of ancient polychromy (for details see the call for Papers).
The venue is open primarily to members of the International Polychromy Network and to colleagues from co-operating institutions but we also welcome experts from a wide range of fields (archaeologists, architects, art historians, scientists, conservators, curators, or other museum professionals) to whom the subject is of interest. The main focus is on the Classical world but submissions on relevant comparative studies from other time periods will also be considered.
---
Registration
Registration to participate in the online conference will be necessary. Please send an email to 10thpolychromyroundtable@gmail.com indicating your name and institutional affiliation

For further information please contact: 10thpolychromyroundtable@gmail.com
Scientific Committee
Brigitte Bourgeois, General Curator, Centre de recherche et de restauration des musées de France (C2RMF), Paris
Vinzenz Brinkmann, Professor, Institute of Archaeological Sciences, Goethe University of Frankfurt a.M., and Head of the Collection of Ancient Sculpture, Liebieghaus Frankfurt
Joanne Dyer, Colour Scientist, Department of Scientific Research, British Museum, London
Uta Hassler, Professor em., Department of Conservation and Historical Building Research, ETH Zurich
Paolo Liverani, Professor, Dipartimento di Storia, Archeologia, Geografia, Arte e Spettacolo, University of Florence
Martin Maischberger, Deputy Director, Antikensammlung Staatliche Museen zu Berlin
Jan S. Østergaard, Former research curator, Ny Carlsberg Glyptotek, Copenhagen
Ina Reiche, Research Director, Institut de Recherche de Chimie Paris, Centre National de la Recherche Scientifique (CNRS)
Stephan Zink, Researcher, Department of Building Archaeology, German Archaeological Institute Berlin
Organizers
Frederik Grosser, Research Assistant, Antikensammlung Staatliche Museen zu Berlin
Martin Maischberger, Deputy Director, Antikensammlung Staatliche Museen zu Berlin
Jan S. Østergaard, Former research curator, Ny Carlsberg Glyptotek, Copenhagen
Katja Piesker, Head of the Department of Building Archaeology, German Archaeological Institute Berlin
Stephan Zink, Researcher, Department of Building Archaeology, German Archaeological Institute Berlin